See on Scoop.it – Stop Monsanto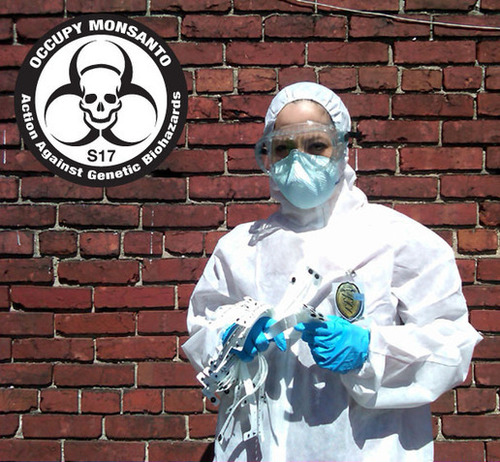 Get Your Free Genetic Crimes Unit Action Kit
In an effort to expose Monsanto's greed and hold the Company accountable for their crimes, we are making Genetic Crimes Unit (GCU) Action Kits available for free to the first 100 groups who commit to Occupy Monsanto during the week of September 17th, 2012.
Each GCU Action kit contains:
Hooded White Coverall (size: Medium or Large)
Goggles
Nitrile Gloves
Respirator
Genetic Crimes Unit Badge
50 Occupy Monsanto Bracelets
Stickers
Biohazard Crime Scene Tape
Occupy Monsanto Hazmat Manual
Please fill out our handy-dandy form below with your mailing address, email address, coverall size (Medium or Large), and basic information (specifically, date, time, and location) about your Occupy Monsanto plans for the week of September 17th. The GCU Action Kit is for organizers, meaning, please do not sign up unless you want to be the person responsible for organizing an action. The last day to sign up for a GCU Action Kit is August 17. If you want to simply participate in a decontamination event, contact one of the GCU's listed above.
We have created a GCU map, similar to the one on our Facilities page, showing global GCU locations. When visitors click on these locations on the map, anonymous contact information for your GCU will appear. You will be added to our GCU email newsletter so we can send you periodic updates. At this time, we cannot use @aol.com e-mail addresses for anonymous GCU contacts. If you have any problems, please email GCU@occupy-monsanto.com.
http://occupy-monsanto.com/genetic-crimes-unit/ ;
See on occupy-monsanto.com